At Coverings 2023, we honored 7 outstanding projects that demonstrated spectacular craftsmanship and creativity in the use of tile & stone. This week we're spotlighting the 2023 CID Award winner for Commercial Ceramic Tile Installation.
---
The joys and excitement of this amazing Mountain Modern Boho home never cease. From the moment that you walk in the door, you're transported to a perfectly cozy and stylish home. As you walk through every part of the home, the style and feel of Mountain Modern Boho styling is translated into every space. To achieve the perfect pairing, the home was designed using a variety of colors, textures, patterns and materials. From a cement tile pantry, a natural stone, charcoal slate mudroom, bold patterned and colored porcelain tiled  bathrooms, to thin brick tile scattered throughout, every corner told the home's story.
Using the Ironworks thin brick tile throughout the house, was the key to tying the home together through every room and floor. From its shape, texture, and color, you can see a translation of this material in some way in almost every space of the home. However, as beautiful as brick is, it's not always the easiest material to work with. Our Installers are always careful to open multiple boxes, constantly mixing them to help with a truly natural variation of the brick being spread throughout the area.
The master bathroom is a masterpiece, to say the least. From the ground up, you can see the perfect amount of rustic mountain meets moody modern with a hint of that warm and natural boho touch. Using a uniquely cut midnight luxe black marble, eyes go straight to the amazing floor. However, the beautifully installed, amazing hand-crafted Tile Of Ezra Snow White Zellige tile can't be missed when one looks up. These tiles are so unique and beautiful even with all their imperfections. These tiles will always come imperfectly made, chipped, slightly out of square, no varying colors, which can often create quite a headache when it comes to installation. However, with just the right amount of patience, it is bound to shine with beauty.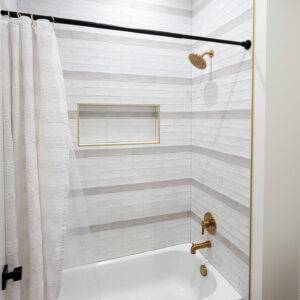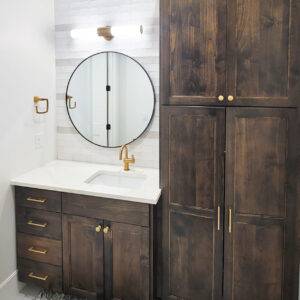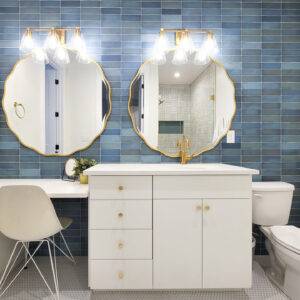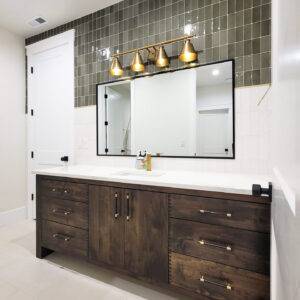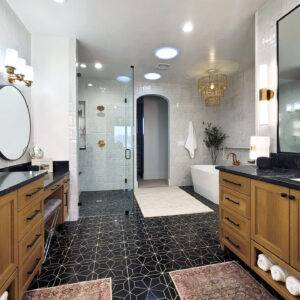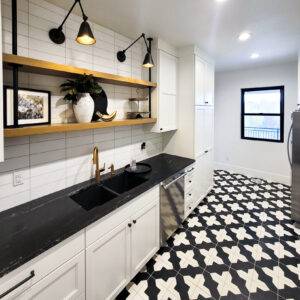 ---
Do you have a recently completed project that features innovative design and installation of tile & stone? Consider entering it into the 2024 CID Awards – the submission portal will open this fall.