At Coverings 2023, the CID Awards honored outstanding Special Recognition projects that demonstrated spectacular craftsmanship and creativity in using tile and stone. This week, we're highlighting a unique project that was honored for its historic renovation. 
Religiously Detailed Historical Renovation | J&R Tile, Inc.
This project's representatives had a collective vision: to take an abandoned seminary campus adjacent to a historical landmark and repurpose each of the existing buildings on the land. Since the 1720s, this entire expanse has served as a valuable community haven. Today, the property continues to serve its residents with affordable housing, educational venues, playgrounds, and other resources – even a dog park!
This most recent phase of rehabilitation proved to be highly challenging and complex. Because of the history of the site and its buildings, special care, great expertise, and significant attention to detail were absolutely needed. However, with on-point ideas, cutting-edge products, and highly skilled tile contractors, these challenges were successfully met. The results were nothing less than spectacular.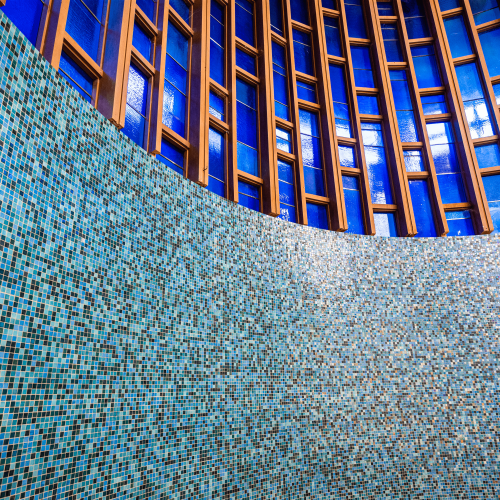 Now, as people enter the conference center, they are greeted by a beautiful and massive radius wall adorned with 1" x 1" blue glass mosaic tiles with the original stained-glass panels towering high above. A glass-filled, pre-mixed, urethane grout was specified by virtue of its strong blending characteristics. Because it is glass-filled, it also provides a unique aesthetic effect as it lets light pass through the grout joint and into the tile itself, creating a three-dimensional appearance. Architects selected an amber-colored grout to mimic the original stained glass towering above with its blue and gold colors. This created a movement and the most amazing reflections, tying everything together. The clients were ecstatic about the result, as it was a true work of art, greeting every visitor as they entered this historic landmark.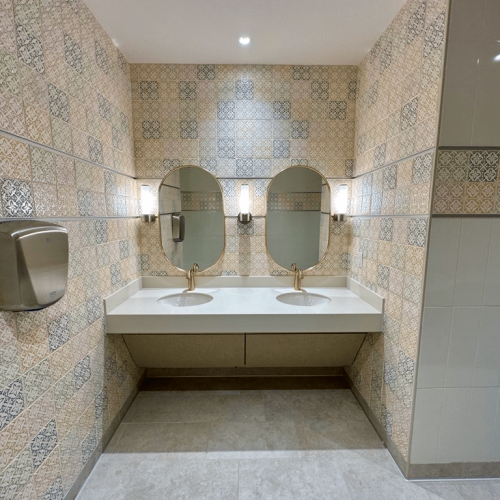 Architects chose a myriad of surfaces to breathe new life into this unique landmark. From surface preparation to grout, the products chosen offered protection every step of the way with comprehensive warranties and complete installation systems. Superior strength, smart technology, and the beauty of a job well done resulted in the total package. The innovation clearly resulted in this project becoming a spectacular, historical, and relevant landmark in the community. This revitalization has led this historic landmark to enter its third century of service, maintaining the paramount legacy and cultural significance the city holds so dear.
Do you have a recently completed project that features innovative design and installation of tile & stone? Consider entering it into the 2024 CID Awards – the submission portal is now open!