Coverings 2023
Educational Partner
Coverings has teamed up with some of the brightest minds in the industry to bring tile, stone, and design professionals even more educational content live from Orlando. In addition to Coverings' regular robust education program, this co-located learning opportunity will provide attendees critical resources and information to keep current in today's highly competitive marketplace.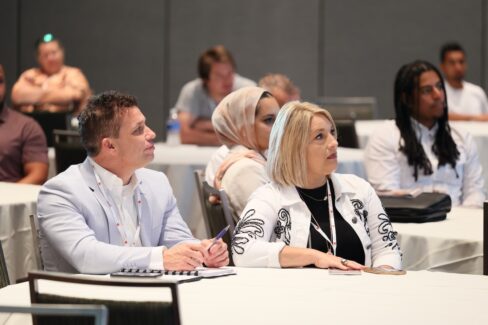 University of Ceramic Tile and Stone
How to be a Professional Architectural Sales Rep to Develop 'Bullet Proof' Specifications and Get the Order
Monday, April 17, 9:00 AM – 1:00 PM
Orange County Convention Center, Orlando
Separate registration & fee required
Presenters: Donato Pompo, president of the University of Ceramic Tile and Stone and Ceramic Tile And Stone Consultants; Vince Moiso, principal and president of Oceanside Glass & Tile

Learn the fundamentals of being a professional and successful architectural sales representative. This course will explain and dissect the ingredients to developing a "Bulletproof Specification," which are specifications resistant to value engineering and substitutes.
Discover how to identify and target architects and projects that are likely to require a substantial amount of tile and stone. The session will also touch on the key communication tactics and skills needed to develop relationships and loyalty with architects to get contractors to honor the specification. Strategies for tracking specifications to help ensure order delivery will also be provided through this training opportunity.
2023 Dedicated To Your Success Conference
Thursday, April 20 – Saturday, April 22
Orange County Convention Center, Orlando
Separate registration & fee required
The 2023 Dedicated To Your Success Conference is the ONLY event where outsiders can meet with private service professionals (PSPs), the gatekeepers to high-net-worth estates. Building professional relationships with PSPs is the only way through a mansion's front door, and Private Service Alliance (PSA) is the only membership community for building professional relationships within this elite industry.
Dedicated To Your Success is designed to advance the professional development of attendees by providing industry-specific information, strategies, best practices, and resources found nowhere else. Each attendee will leave with more knowledge and tools to help them in their careers and businesses by attending our conference workshops, MasterClasses, and through the privileged information shared by our speakers and educators.