A new year means new trends, and 2023 is already off to a strong start! From sustainability and safety to durability and style, this year's top 10 trends manifest every imaginable merit of tile.
The following trends were gathered and forecasted by Ceramics of Italy, Tile Council of North America, and Tile of Spain – the three leading international tile associations and sponsors of Coverings – and highlight the most popular, on-trend styles from the global marketplace. These trends are also a sneak peek of the immersive displays that will be at Coverings 2023, April 18-21, in Orlando, Florida. Click here to attend Coverings 2023 at no cost.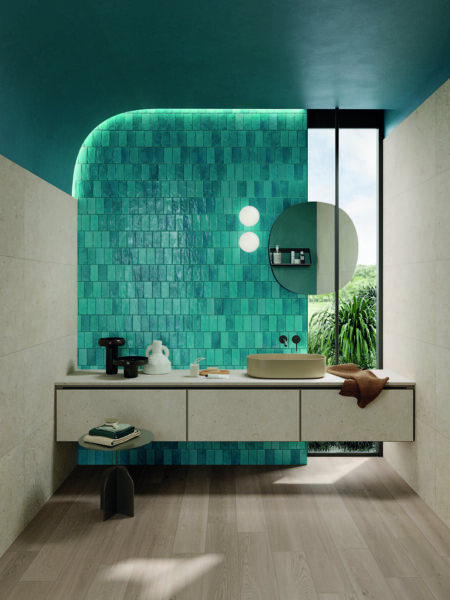 The humble brick conjures a handmade feeling, while also serving as a module for creating wholly unique compositions. Ceramic tile can be stacked horizontally or vertically to create monochromatic environments or mixed with different colors to create myriad patterns like stripes, chevron and herringbone. Some collections offer various finishes and intense chromatic variations to generate visual interest in walls, countertops, and even furnishings.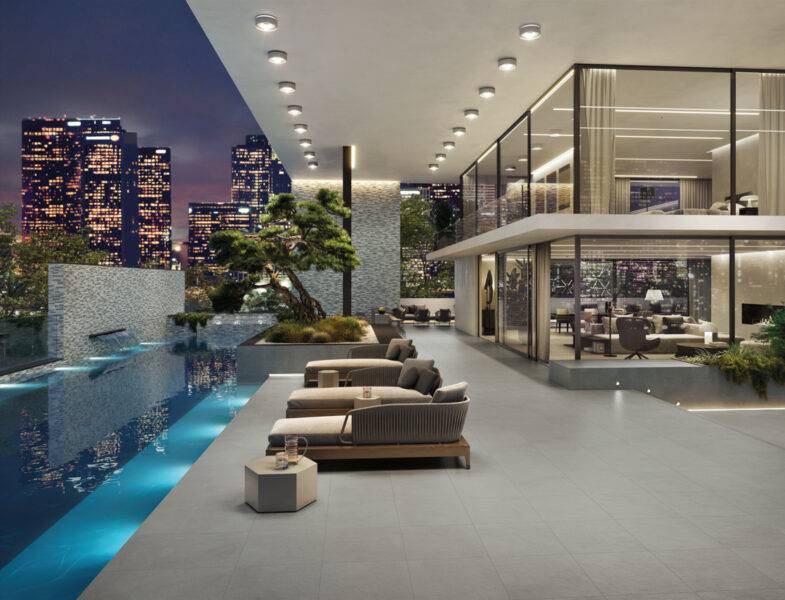 Concrete looks can bring visual harmony to spaces and evoke raw urban energy. A worn patina effect tells the story, sometimes layered, sanded, or tinted. Their subtle color variation and often dimensional texture make them versatile enough to suit a wide range of applications, from bustling corner cafes to serene spa-like garden spaces.
Large-scale aggregate looks ranging from time-worn terrazzo to cobblestone to Byzantine mosaics can ground spaces with a foundation of history but with the modern technology of porcelain panels. This tile trend allows the old-world charm of cobblestone without a threat to stilettoed passersby.
4. Creative Uses of Wood-Look Tile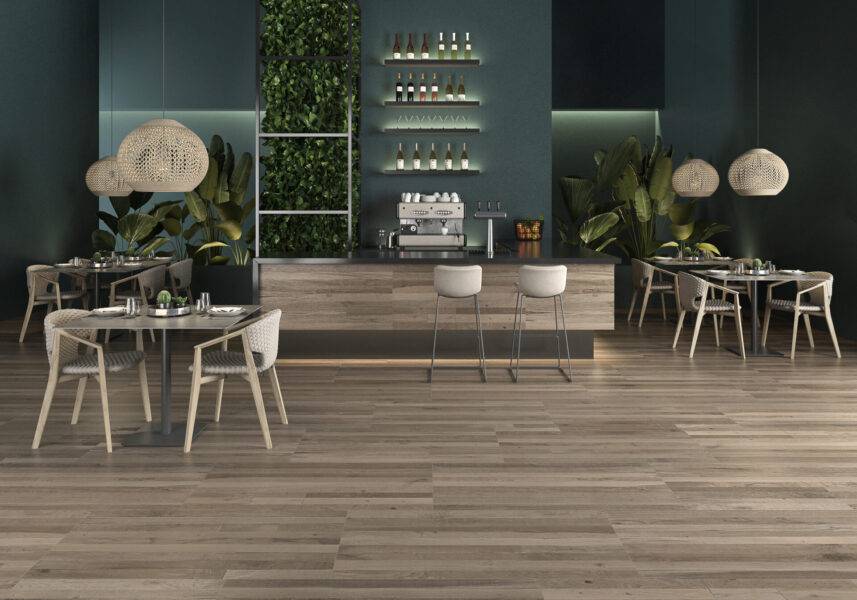 The natural world is even more wondrous when creative elements can be combined for the best outcome. Ceramic tile companies have perfected the art of wood-like tile, which remains an important solution for projects that desire the look but require the ease of maintenance that ceramic tile provides. Creative applications of wood-look tile abound as a favored trend and are fast becoming highly preferred.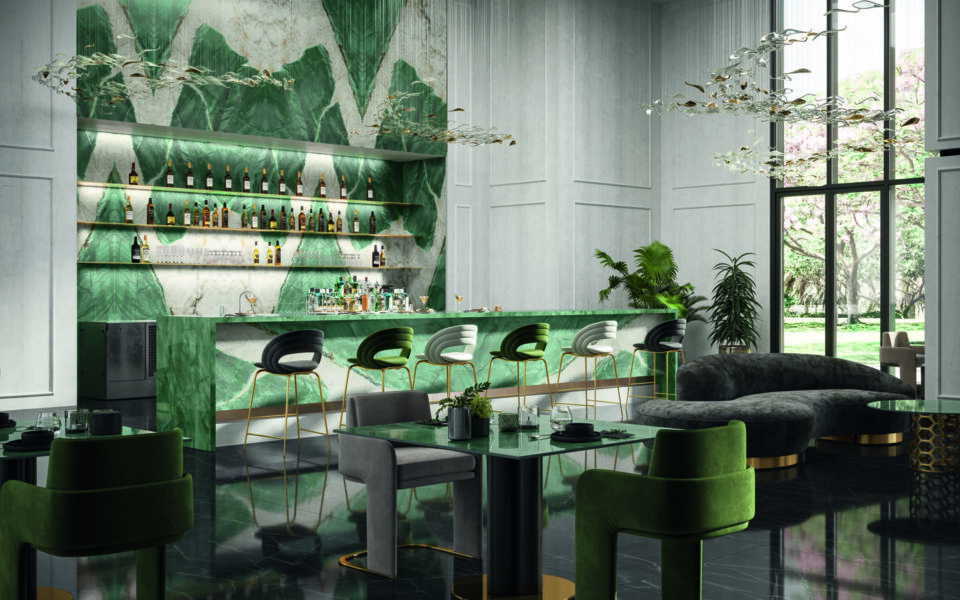 Jade, sage, mint, and aloe – no hue conjures nature like green. Select manufacturers have released show-stopping porcelain slabs featuring saturated colors, giant palms, and exotic stones like green onyx and Patagonia green marble. While others take a more subtle approach, offering large- and small-format tiles in muted shades of green and subtle textures like Moroccan plaster.
6. Enduring Elegance Tile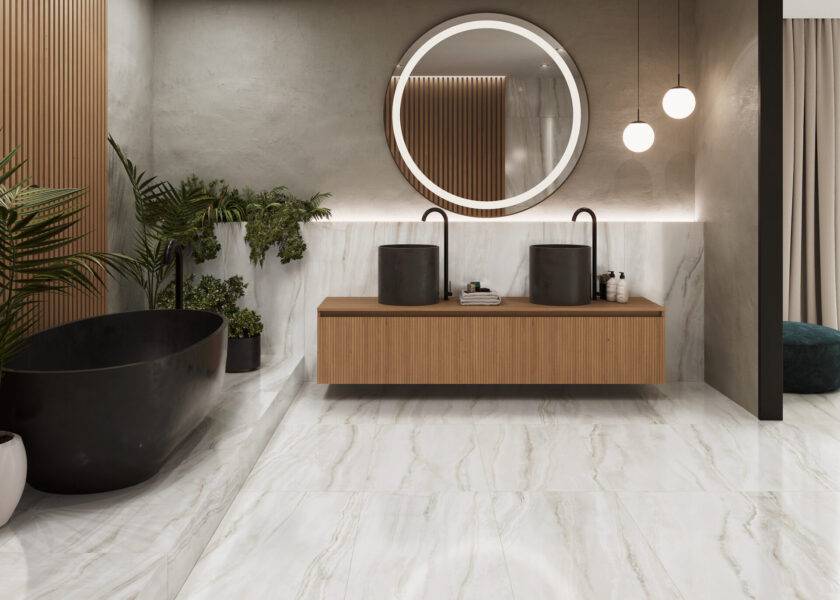 From subtle shading and colorways used in residential and commercial settings to naturally forming striations that add depth to walkways and flooring, large-format ceramic tiles are statement-making and create elegant and enduring aesthetics. The result is undoubtedly sophisticated and elegant.
7. Mother Nature-Inspired Indoor-Outdoor Tile
Atlas Concord USA, Element
Connecting interior and exterior living spaces with ceramic tile inspired by Mother Nature blurs the line between the built environment and natural settings, which encourages better, more-flexible use of available space. Today's talented tile manufacturers excel at providing anti-slip, easy-to-maintain ceramic solutions that enhance Mother Nature's natural offerings. This ultimate tile application is even more apropos with hyper-realistic interpretations of natural elements, painterly florals, and new materials that look like cork and rammed earth. Porcelain tile collections further enhance the trend with 2-centimeter-thick outdoor pavers to match their thinner indoor counterparts, allowing for indoor-outdoor transitions with stylistic continuity.
8. Sensory Seduction Tile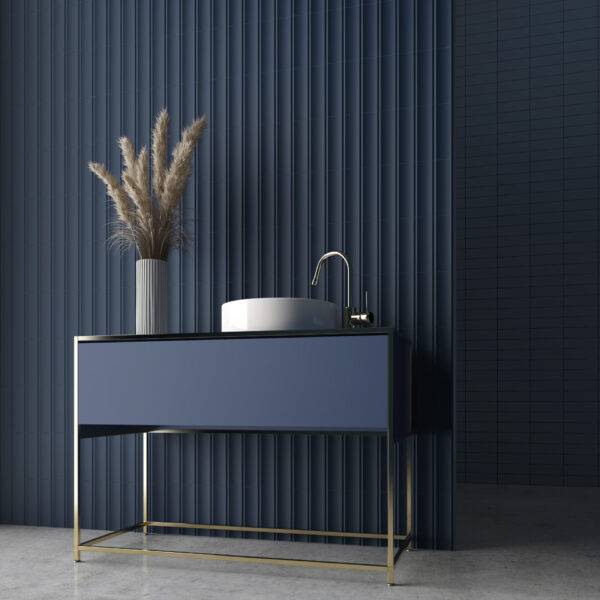 You know a space has been designed with intention when every surface begs to be touched and experienced! Ceramic tiles are the perfect material when a room or project needs to elevate every element in perfect harmony. This trend is experienced in many types of tiled settings that beckon the senses and create a desire to experience the space to its fullest, often giving rise to a feeling of relaxation or even excitement, depending upon the chosen application and essence of design.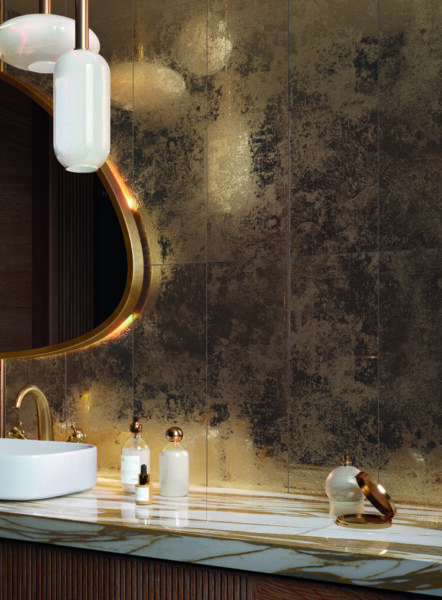 The '70s was a decade defined by dichotomies. On one hand, it celebrated spectacle with glam rock artists, flashy prints and metallic accessories; while on the other, it was very naturalistic and breezy. Materials and patterns conjuring the sailing lifestyle became popular, including stripes, wavy patterns and wood paneling. Earthy tones and pop art florals were also prevalent, which can be seen in this groovy ceramic tile trend today.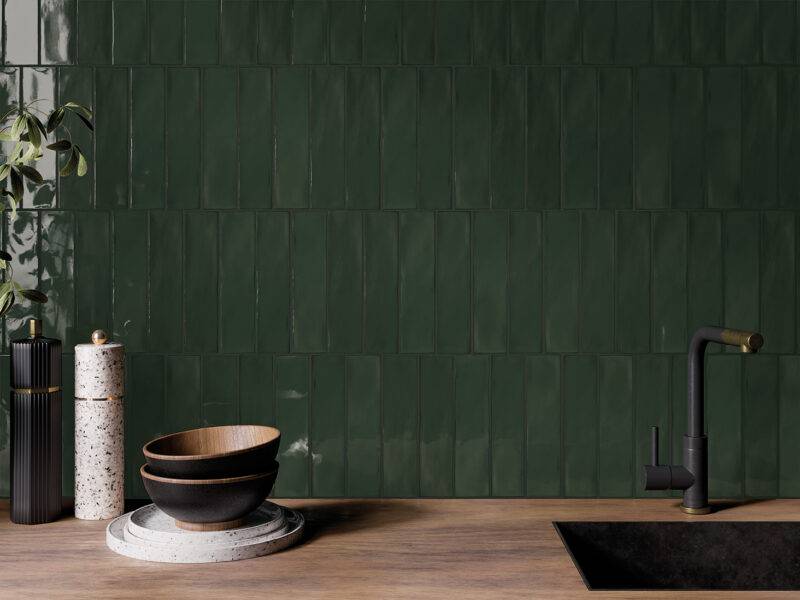 There is a trending desire for goods made for a human, by a human; and, this holds true for ceramic tile. Subtle undulations in the surface emulate manually applied thick glazes. Gently uneven surfaces draw the eye and create the sense that each tile was intentionally crafted by a skilled artisan. Hand-pressed or not, the visual is so authentic, you'd expect a hand-written note from the maker to accompany your tile selection.
For an in-depth look at these ten dynamic trends, please watch the 2023 tile trends video with Coverings Industry Ambassador and interior design Alena Capra and Interior Design Magazine.